Floor & Slab Lifting
The Onsite-SM floor lifting method provides a fast, accurate and cost-effective remedial solution for stabilising and where possible, relevelling sunken flooring. OnSite floor & slab lifting services applications range from domestic repairs to large industrial and commercial projects, roads and airport runways.
Floor Lifting
Storage areas and floors can be relevelled within one working day
Minimal disruption on industrial sites—simply move equipment and stock from aisle to aisle
Minimal dust or mess
Accurate and controllable technique
Tolerances can be better than +/- 5mm
Standard 10 year material guarantee which can be extended
Widely accepted by insurers, local authorities and consulting engineers.
Road Slabs
Minimal disruption to road traffic
Immediate traffic access
Fast and efficient—(600m²/day)
Proven technology
Widely used throughout the UK, Europe and North America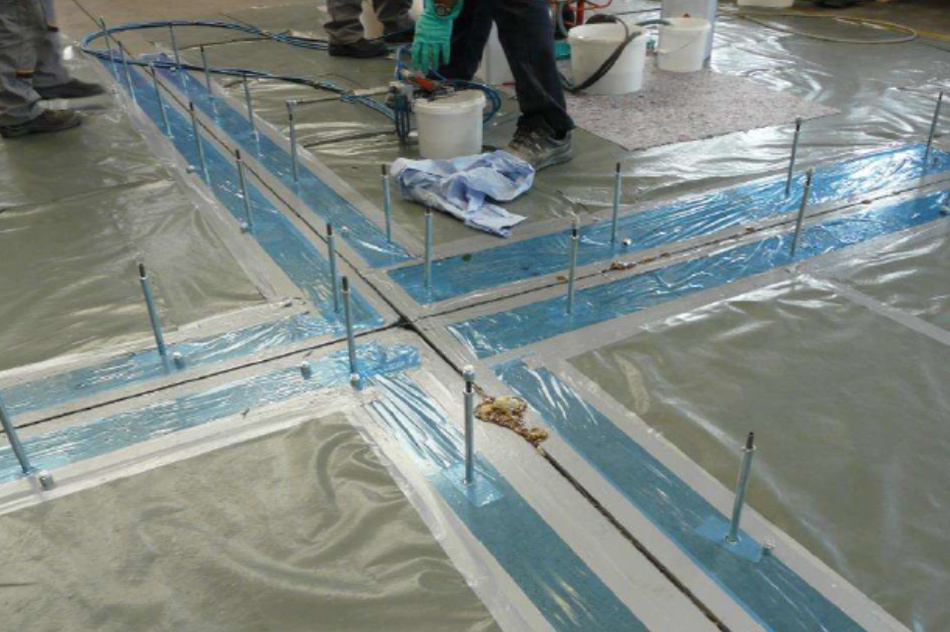 Consolidation of fill material
Settlement can often be attributed to inadequate fill material, although other factors should be taken into consideration.
A ground floor slab is designed to distribute loads to the immediate sub-base and fill. If the material is inappropriate or is poorly compacted it will consolidate, resulting in the formation of voids, usually immediately below the slab. Consolidation of the fill material is an essential first step in repairing and reinstating the flooring. The Onsite-SM Floor Lifting method acts directly on the foundation by filling voids and re-compacting the more superficial layers of fill, and finally by applying thrust to the underside of the flooring, lifting the floor to the original or desired level, where possible.
In some cases, it is necessary to complete the job with the Onsite-SM deep injection process if there is poorly consolidated fill material at depth.
The Onsite-SM floor lifting method is capable of raising flooring of all types—domestic, warehouse, commercial, industrial, airports, roads and railways.
In domestic situations, it is not usually necessary for the occupants of the property to move out while treatment takes place.
In almost every case, the treatment can be applied without removing machinery of fixtures and fittings, resulting in huge savings in both time and money.
The method allows each area to be treated in a very precise way, and consequently avoids interrupting commercial or industrial activity. Treated areas can return to normal use as soon as the injection process is complete.
Road can be treated one lane at a time, thus limiting disruption and interference to traffic.
The Onsite-SM floor lifting method is extremely rapid compared with traditional solutions.

Method
The Onsite-SM material is injected in its liquid state through holes of 15mm-20mm diameter, drilled through the slab. The material immediately expands to fill any voids and subsequently expands in an upward direction to gradually and gently lift the flooring. Movement is carefully monitored by laser level. It is possible to either lift the flooring or to restrict the operation to consolidation of the sub-base only.
The degree of the lift is a controlled and precise operation.
In areas where there is no significant voiding, the flooring will begin to lift immediately, resulting in a reduction of material consumption. The Onsite-SM material offers the benefits of significantly increasing load-bearing properties of the fill and sub-base, long term stability, thermal insulation and impermeability.
The lifting force is dependant upon the applied weight and can exceed 50 tons per m². It is possible to lift flooring with scaffolding or heavy plant in situ.
The lifting process rarely causes damage to the surface of the flooring and a good concrete slab of adequate thickness can be lifted without cracking.
Applications
Domestic and general flooring—houses, shops, supermarkets etc.
Elimination of voids between flooring and ground and consolidation of the sub-base
Lifting of the sunken area without interrupting local activities
Industrial flooring
Consolidation of the sub-floor and elimination of differential levels along joints
Lifting of sunken flooring without having to remove plant or other structures
Reduction of vibration transmitted to the flooring by machinery or vehicles
Treatment areas can be organised so that production can continue
Asphalt roads
Elimination of aquaplaning
Localised lifting, for example at points close to bridges and elevated structures
Recovery or introduction of localised drainage slopes
Reinforced concrete roads and airport paving
Consolidation of the sub-floor and re-levelling
Elimination of differential levels along joints
Elimination of pumping effect, with little interruption to traffic
Application
All work is carried out by specialist Onsite-SM technicians, operating from a fully equipped self-sufficient van. The Onsite-SM material is brought onto site through a 70-90m hose.
Level Survey
The affected area can be surveyed with a laser level. A series of holes 15-20mm in diameter are drilled in a grid pattern throughout the affected area.
Surface Injection
The Onsite-SM material is injected, and expansion is immediate. The compaction effect is verified in real time by means of a laser level placed above the floor, which confirms lift.
Lifting the flooring
If required and if possible, injection continues in order to lift the flooring to the required level. The lift does not take place by hydraulic pressure, but by chemical reaction which causes the resin to expand in an upward direction. Lift may be limited in certain circumstances, for example where walls are built off the slab.
Contact us online now or call us on 0115 933 5010