Increasing Ground Bearing Capacity
The OnSite-SM increasing ground bearing capacity service is used in instances where there is a need of the ground to take more loading. This can be achieved in a way that does not impact on current activities. These works are used in supermarkets, upper floor extensions to public buildings and private residences.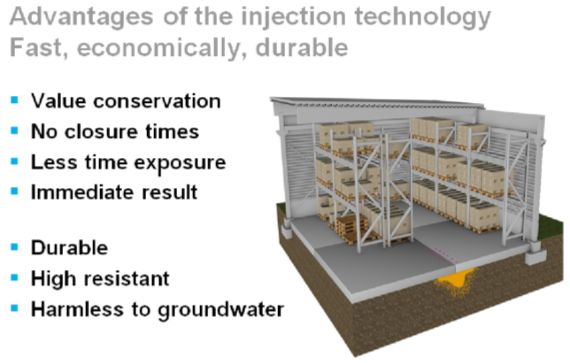 Why Increase Ground Bearing Capacity of Soils?
To allow for an increased load to be placed on the structure, another floor of a building or a mezzanine floor.
This is a very green way of placing a foundation onto a fragile soil, economically fast & reliable, no mess.
Information Required
A site survey is needed to gauge the actual ground bearing capacity of the soils using the cone penetrometer method.
This gives you a starting point of increasing the ground bearing capacity. The bore hole will give you the depths that need to be strengthened.
From the information provided a pattern of drill holes and depths can be drawn up. The amount of materials that is required to increase the ground bearing capacity can then be calculated.
Method
From the site survey a grid pattern can be drawn up to enable 20mm holes to be drilled through the concrete slab and our resin to be injected at depths to increase the ground bearing capacity of the area of floor to be strengthened. Once the resin has cured the building works can commence, usually the next day from our site visit. This is a fast and efficient way of allowing building works to carry on in a tight programme. There is no large or heavy plant used in the OnSite method.
Applications
Mezzanine
Brownfield Sites
Bowing Floors with walls built off the slabs
New Build
Contact us online now or call us on 0115 933 5010