Concrete Repair
We are specialist concrete repair contractors solving problems for companies up and down the country in all market sectors.
Every repair contract we do is designed to preserve the life your structures, ensuring that the safety of your buildings is kept to the highest standard.
Alongside the repair works that we offer, we also are specialists in the installation of cathodic protection systems, waterproofing with our injection systems, ground stabilisation, concrete condition surveys, resin injection and leak sealing. All of these services can play a part when servicing the life of your structure.
Why concrete needs repairing?
Despite being perceived as strong and durable, concrete is actually very susceptible to outside influences. Other than physical strains such as subsidence, root damage or impact damage, the main problem in keeping concrete structures in good health is water.
Crack repairs are often the quickest and cheapest option for many businesses who want to retain the lifespan of their structures.
The main causes of concrete structure degradation
Carbonation – The process of chemical reactions taking place where areas are exposed to the elements.
Chloride – Usually from sea water causing an autocatalytic process to take place, not on the concrete but on the reinforcing steel that is being used.
Distilled water – In the form of steam, distilled water can wash out calcium content in concrete, leaving it in a brittle condition.
Without adequate waterproofing and regular concrete repair, concrete buildings can degrade far quicker than brick or composite structures.
Our staff are fully inducted and are well versed in conducting repair works in different environments including, the Ministry of Defence, the Rail Industry and Power Generation Plants.
We extend the life of structures for another 10 years.
We offer cost effective long lasting solutions to all varieties of concrete repair that are needed.
We provide fully trained staff that are equipped to conduct activities to the highest of standards.
We apply waterproofing to all of our applications where needed, ensuring everything is leak tight.
Contact us online now or call us on 0115 933 5010
Recent Concrete Repair Project -
A scheme currently underway for a high profile client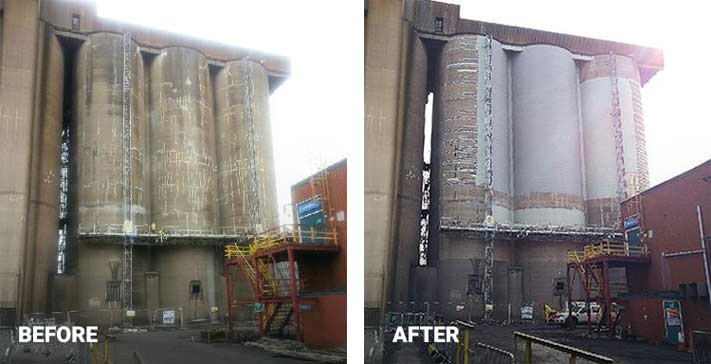 The works include:
Structural Remediation by means of Concrete Repair, Crack Injection, application of carbon fibre banding and anti-carbonation coating' and 'A scheme currently underway for a high profile client which
Recent Concrete Repair Project -
Waste Recycling Group - Eastcroft Incinerator, Nottingham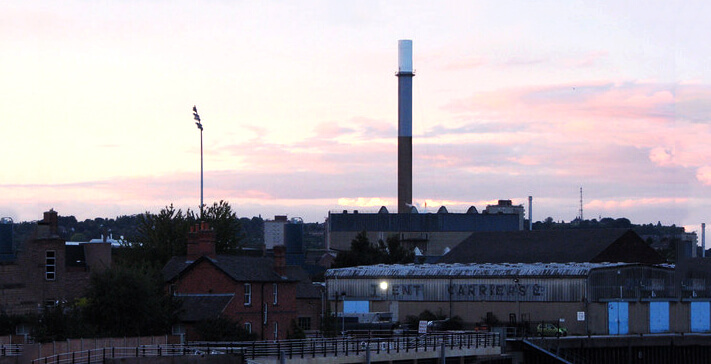 Requirements:
We have recently carried out essential concrete repair and maintenance to the reinforced concrete chimney at Eastcroft Incinerator Nottingham on behalf of Waste Recycling Group.
The planned shut down works involved removing the existing smoke band repair work and the application of new anti-carbonation coatings to the chimney.
The chimney required remedial concrete repair and stabilisation through drilling and pinning of the external concrete flutes.
The works were completed to the satisfaction of the client on time and within budget.
Concrete repair solution:
A full scaffold was erected around the smoke band to contain all materials from the smoke band removal.
The concrete was repaired and an application of anti-carbonation coating was used to extend the life of the structure for another 10 years.
We have worked with various steeplejack companies in the past and our expertise in the field of concrete repair and specialist coating systems proved invaluable on this project..
Malcolm Speeden
Project Manager - Waste Recycling Group